Rann of Kutch is also known as White Rann, due to the presence of marble white salt pans that stretch over seven and a half thousand kilometers. Most of the inhabitants from nearby villages and those living in Kutch, earn their income by working at these salt pans for eight months, a year. The Rann, which is laden with salt pans is just about five kilometers away from the tent city of Dhordo.
Rann of Kutch festival
The Rann of Kutch festival has been one of the most popular festivals in India. Held every year from the months of November to February, the Rann of Kutch festival is a package full of entertainment, fun, and of course, sumptuous Gujarati food. The festival runs for over a hundred days but we would recommend you to plan your visit during the full moon night period, around December. Attracting a sizeable footfall every year from all over the world, the festival celebrates the diversity and ethnic fervor of Kutch.
COURTESY: http://www.rannutsav.com/images/main-slider-1.jpg
Things to do at the Rann of Kutch festival:
1) Spend the night in a tent
During the festival, organizers spread out about four hundred premium air-conditioned and non-air-conditioned tents for visitors. So there's definitely something for every budget type at the festival. The experience of living out of a tent in the chilly weather surrounded by glistening white stretches of land is a completely different feeling in itself.
COURTESY: http://www.rannutsav.com/images/main-slider-8.jpg
2) Watch the folk performances at the festival
The Rann of Kutch festival also hosts some spectacular cultural performances by trained professional dancers who are dressed in traditional Gujarati outfits. These performances will make you want to get up and join them as they dance to foot-tapping Kutchi folk music.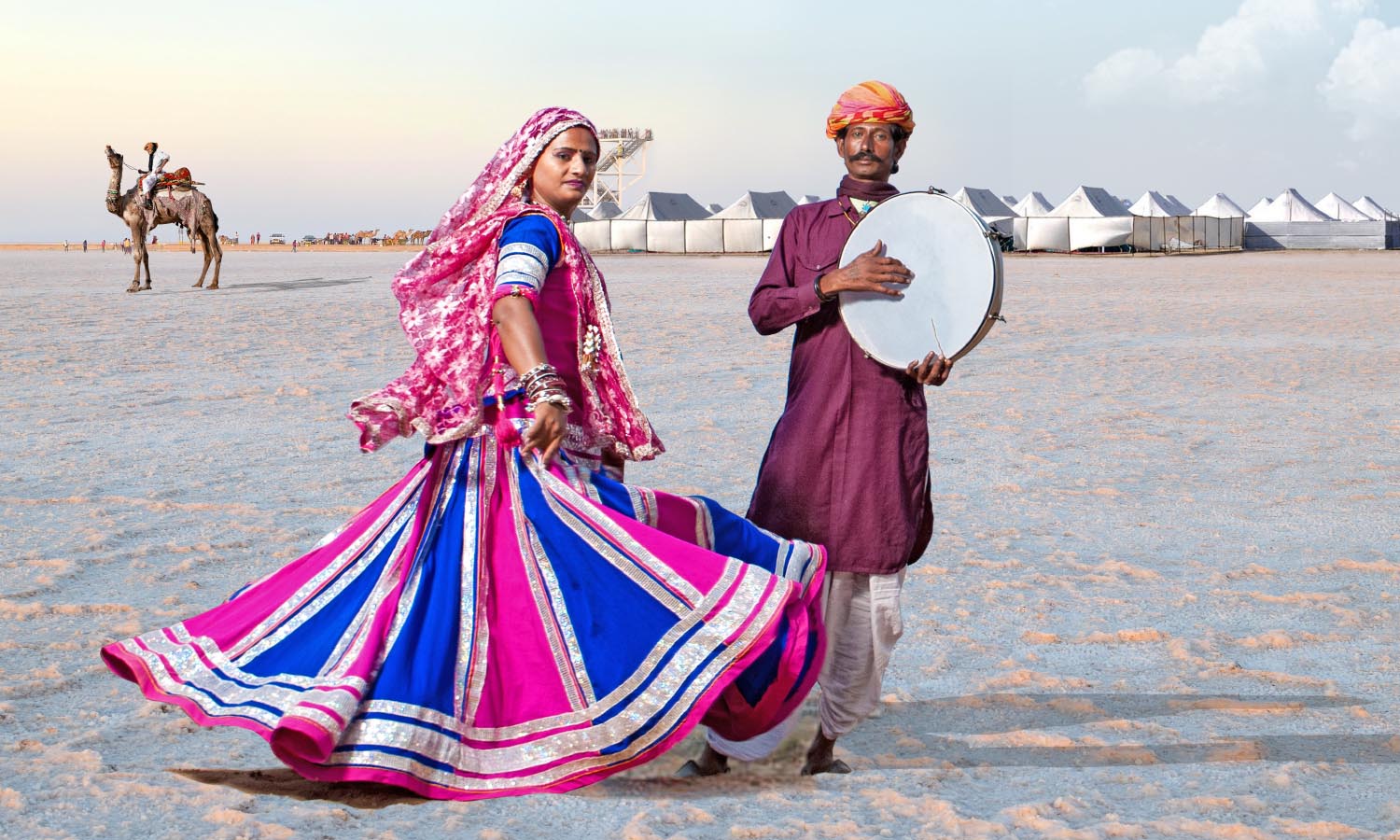 COURTESY: http://lepassagetoindia.com/experience-detail.php?id=MTcw
3) Shop local handicrafts
There are lots of sellers at the makeshift stalls during the festival. These sellers sell hand-made items such as lacquered bangles, hand-embroidered cloth material and traditional jewelry. If you want to explore a little more, head to the Kutch village. You'll find beautiful rabari embroidered cloth materials, mirror work cloth materials, abhala work cloth materials, bandhani sarees and rogan art pieces. Don't forget to pick up some matching traditional ornaments when you're in Kutch. If you're lucky, you'll also get to see how skilled artisans make colorful kitchen utensils and items out of wood.
COURTESY: https://www.makemytrip.com/blog/unique-craft-villages-kutch-gujarat
4) Eat Gujarati food
A lot of visitors go to the Rann of Kutch with a set agenda- food. Organizers leave absolutely no stone unturned when it comes to hospitality and food, at the festival. You will be able to taste most of the typical authentic Gujarati dishes when you visit, right from breakfast to dinner. Eat the famous Gujarati breakfast of hot jalebis and fafdas as soon as you wake up. Followed by a heavy lunch meal, the quintessential Gujarati thaali that consists of a variety of sabzis, bajra no rotlo (an Indian flatbread), aloo puri and some buttermilk. A very famous Kutchi dish is Dabeli, a mix of Indian masalas clubbed together in a pav (bun) which is shallow-fried in butter and topped with crispy masala peanuts, you must try out the special Kutchi dabeli when you're in Kutch.
COURTESY: https://www.rannutsav.net/kutch-canvas-filled-colourful-culture/
Dhordo and Hodka village:
The last village of Bhuj, Dhordo is a magnificent piece of land that is often frequented by birds from across the world including birds from Asia and Europe, during the Indian winter months. A large stretch of land, Dhordo is paradise for motor enthusiasts wanting to test their abilities as Dhordo is a flat piece of land devoid of any external buildings or constructions. Hodka village is full of local artisans practicing age-old crafts and selling them to different parts of the country. The Dhordo village is about 5 kilometers away from the Rann of Kutch while Hodka village is about 15 kilometers away. When you're visiting around the Rann of Kutch Utsav, you'll also find some tents that are set up at the Dhordo village.
COURTESY: https://www.helloholidays.in/gujarat-salty-desert.html
Reaching Rann of Kutch:
The best way to reach the Rann is by taking a direct train or flight to Bhuj, another city in Gujarat. After reaching Bhuj, you can travel to Rann of Kutch via road, you can either book your own transport (car) or take the regular bus. If you've booked a tent at the Rann of Kutch itself, ask your organizers if they can arrange for a pick up from the Bhuj railway station or Bhuj airport. Most of the organizers accommodate and arrange for direct pick-ups for customers visiting the festival. For a more local experience, take a dug-dug from Bhuj to Rann of Kutch but expect a bumpy ride to your destination.
When to visit?
The festival goes on from November to the month of February. I would recommend you to visit during the full-moon nights so that you can make full use of your trip and watch as the moonlight leaves the white landscape shining as you stroll around the Utsav. Make sure you book your tent and the experiences at the Rann of Kutch well in advance, to avoid any disappointments.
COURTESY: https://www.rannutsavonline.com/blog/2018/07/07/visit-rann-utsav-full-moon/
Things to do around the Rann of Kutch:
Visit the Aaina Mahal and Parag Mahal in Bhuj. The ruins of the Bhuj earthquake that occurred in 2001 are proof that beauty lies in imperfections and shows how Kutch has set up everything they lost and emerged even stronger. If you're someone who loves visiting small villages and exploring the local handicrafts, you must head to the Dhordo and Hodka villages that are near the Rann of Kutch. You'll see houses and huts done up in vibrant shades and some of the most creative handicrafts with intricately embroidered designs. Another site you must visit when you're around is the Vijay Vilas Palace. If you think you've heard of the Palace before, you're right. Vijay Vilas Palace was the shooting location for the Bollywood film, Hum Dil De Chuke Sanam. The only glitch is that the palace is about 160 kilometers away from the Rann of Kutch but is definitely worth visiting, you'll be in complete awe of the architectural structure and design of the grande Vijay Vilas Palace. So try and take out some time to visit these places that are located just around the Rann of Kutch.
COURTESY: http://www.mandvibeach.com/mandvi_palace.html
Rann of Kutch is a super combination of Indian authenticity and luxury. A once in a lifetime experience for travellers from around the world, the Rann of Kutch festival from 1st November 2018 to 20th Feb 2019 is definitely a must-visit!